Search
Pandi Liquidadores in Noticias magazine - 50 years of trust & loyalty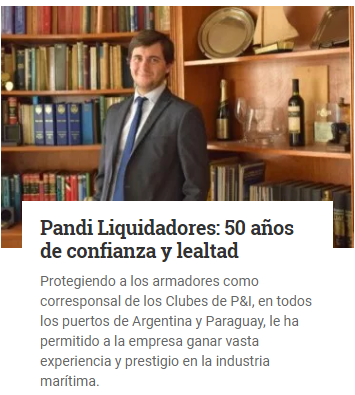 Free translation of the article published on  the edition 11th May 2019, N° 2211, year XXVII
PANDI LIQUIDADORES: 50 YEARS OF TRUST AND LOYALTY
Protecting shipowners as P&I Correspondent in all Argentinean and Paraguayan ports, the company gain extensive experience and name in the maritime industry.
Next year, in 2020, Pandi Liquidadores SSRL will turn 50 years. It is a family business founded in 1970 by Constantino Trigub Clover, and since then, acts as P&I Correspondent in Argentina, Paraguay and Bolivia. "Following my father's, I am the third generation of the family in the business to keep it as leader P&I Correspondent, ensuring that the P&I Clubs and their Members continue having wtih whom being protected", says Sebastián Trigub, lawyer, Masters in International Maritime Law at Swansea University (UK) graduated with Distinction and awarded for the highest grading in Admiralty Law.
What the P&I Clubs are and what does it mean to be a Correspondent?
The P&I Clubs are Protection and Indemnity Mutual Associations providing insurance which covers, in general terms, the shipowners from liabilities which they may incurr before third parties.
Those could be: from problems with the cargo transported to accidents during navigation, going through pollution, damages to property including ships, berths and other fixed and floating object or injuries, among another significant variaty of risks. 
The main 13 P&I Clubs are part of the International Group of P&I which is, among other things, a reinsurance pool which nowadays reaches up to US$ 3.1 bn, being one of the most important reinsurance arrangements in the world. 
Are you Correspondent for those P&I Clubs?
Yes, we are listed by 12 of those 13 clubs of the IGP&I, in addition to other insurers and maritime operators outside the group. As they insure ships which sail and trade all around the world it is not cost / effective for them to have offices in every port of the world. Pandi advices and assists those insurers and the shipowners in any situation which could entail liability, either in techncial, commercial or legal matters. 
We also assist them in loss prevention to avoid those incidents; and when they happen, we investigate their nature and cause extensively, we advise them to prevent or minimize the consequences arising therefrom and to handle any claim which could arise. 
The key of our success during this 50 years and the following 50 years are: First, our relationship with our Principals is based on the principle of trust and loyalty. Second, to have a well formed and trained team. Third, to be available 24 hours a day 365 days a year. Fourth, the technological innovation applied to case hanlding and the business, having developed a 100% paperless system named Full Ahead which has grat data analysys capacity. And last, working closely with the industry and authorities to discuss different matters which affects to the industry in general, such as the implemention of anti-brivery processes.   
The original article can be found published here: https://noticias.perfil.com/2019/05/16/pandi-liquidadores-50-anos-de-confianza-y-lealtad/
Or downloaded here: https://drive.google.com/file/d/1nSnobs3C2VR7OeWk8t_xhZTMGJdVGdY8/view?usp=sharing