Search
COVID-19: UPDATED INFORMATION AFFECTING SHIPS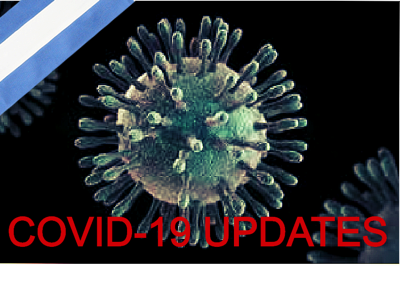 Updated: 24 July 2020 AM
Last circular: 27/2020 (click to see).
Current status:
Mandatory quarentine imposed in all Argentina territory since 20th March 2020. Urgent services concerning international trade exempted. 
: opened
 apply depending on ship's previous ports, pre-arrival health information, transit time, and crew changes according to the AMENDED NATIONAL PROTOCOL.
Despite of the NATIONAL PROTOCOL, in practice, we have seen that different players in different ports have adopted different approaches. Mainly in the ports of San Nicolas, Bahia Blanca and Necochea where the locally based authorities and/or unions request and/or refuse to attend ships with less than 14 days transit time since departure of the last port of call. 
Currently Santa Fe province (Rosario, San Lorenzo port amongst others) has imposed restrictions to enter the province affecting transit of surveyors, pilots, etc...
Restrictions to travel to Uruguay from Argentina has entailed difficulties for Argentinean Pilots to reach Recalada Pilot Station for inbound ships. 
:  some restriction or delay may be encountered but so far services are being provided. Santa Fe province (Rosario / San Lorenzo) has been imposing different restrctions to transit.
: EU members, Schengen members, UK and North Ireland, United States of America, Korea, Japan, China, Iran, Chile and Brazil.
As a consequence of the outbreak of the COVID-19, declared as pandemic by WHO, Argentina  - where up to date reported 148,027 COVID-19 cases, including 2,702 deaths and 62,815 recovered –  has been taking every-day strict measures in order to prevent a steep spread of the virus. These are summarized below insofar as the port, ships and correspondents 'operations are concerned.
Under Decrees of Need and Urgency 260/2020 (12 MAR 2020) and 297/2020 (19 MAR 2020) President Alberto Fernandez declared the "sanitary emergency" in Argentina and various extraordinary measures taken thereupon, most importantly, the so-called "precautionary and mandatory social isolation" applicable effective to all Argentinean territory. On 4th June 2020 the President announced the decision to extend the measure until 17th July 2020.
- On 16 MAR 2020 Pandi Liquidadores SRL closed the office and all administrative and claims handlers staff moved to a remote-working scheme. Within our continuity plan we expect to provide services on the usual manner insofar as the ports continue operating and our surveyors are allowed to provide services on board:
Remote office te.: +54 11 7078 0186 (Monday to Friday, 08:00 to 17:00)
On duty 24/7: +54 911 4446 0662 (as usual, emergencies and A.O.H.)
Mobiles phones and other contact details as published in the Clubs'books
- As from 15 MAR 2020 the Executive decided to close all boarders and no foreigners are allowed in the country (even Argentinean citizens or residents whi remain abroad are being repatriated with limitations). No flights are available and crew changes are now impossible. 
- Within the exceptions to the mandatory isolation, the Executive exempted various activities including "Urgent activities related to foreign trade".
- The Ministry of Health  together with the Ministry of Security have increased the Health controls on board any ship calling Argentina. Now every ship that called an "affected area", or has on board any crew/passenger who was in any "affected area", with a transit time less than 14 dyas, the Coast Guards will board the vessel at Recalada Pilot Station (outer River Plate) and will control body temperature. The Health Authority will decide thereafter if the vessel is authorized to proceed to port and if the pilot can board the vessel >>> If any symptom is detected, the ship will be quarantined. However, the ill crew/passenger could be disembarked, diagnosed and treated according to COVID-19 protocls. Please note that the shipowners may face  the costs of disembarking, moving to health care center and other costs associated with the case, depending on each case and the conditions imposed by the Ministry of Health. On 10th Apr 2020, the Ministry of security exempted from this procedure the liners.
On 21st May 2020 the relevant CRISIS COMMITTEE updated the provisions of the NATIONAL PROTOCOL and the pre-arrival information/documentation requested and quarantine criteria depending on ship's previous ports of call, transit time and crew changes. Please download the AMENDED PROTOCOL HERE.
- Previous guidelines issued by the Ministry of Health and Transport established upon which conditions the crew of a ship calling any port could disembark. This however seems to be changed an no crew are allowed to disembark at any port. Humanitarian reasons shall be considered by the Authorities. 
- The additional quarantine requirements suggested by the Ministry of Transport on 17th May 2020 based on ship's type apparenlty was not taken into account by the AMENDED PROTOCOL and apparently would not be followed. The requirements of the Ministry were as follows: in addition to all the other applicable measures, (1) ALL BULK CARRIERS, 100% CAR CARRIERS, GENERAL CARGO, TANKERS NOT CARRYING PETROLEOUM OR ITS DERIVATES, CONTAINER LINERS WITH HIGH RISK CREW (those trading between only one neighbor country and ours) SHOULD COMPLY WITH A 14-DAY QUARANTINE REGARDLESS OF ITS PRECEDENCE. (2) This would not be required to CONTAINER LINERS (with +1 international call), LNG, TANKERS CARRYING PETROLEOUM OR ITS DERIVATES.
- Due to Unions or local authorities approach, any ship calling San Nicolas, Necochea or Bahia Blanca may not be allowed on berth until 14 days transit times is complied with from previous port of call. This would affect particularly ships calling from Chile and Brasil due to short transit time. The situation seems to be normalizing nevertheless except in NECOCHEA where stevedores refuse to attend any ship with less than 14 days transit time. It remains to be seen how these ports operate considering the AMENDED PROTOCOL.
- Uruguay has imposed retrictions to travel from Argentina affecting the services of the Pilots to reach Recalada Pilot Station (which is normally reached through Montevideo). This may entail delays on pilotage services.
- The Ministry of Transport, through Resolution 60/20 dated 13 MAR 2020 created "Crisis Committee to Prevent COVID-19 in River, Maritime and Lacustrine Transport". In turn, on 20 MAR 2020 the Committee issued the "COVID-19 Protocol" applicable to  the Country, according to which:
Any suspected case must be reported to Health Authorities o whom acts on their behalf;
72 hours prior to ship's arrival, the Master must submit before the Health Authorities pre-arrival information (see specific requirements in the AMENDED PROTOCOL HERE
"essential personnel" are those involved in shipping and ports who provide operational and safety services , such as: pilots, Master/Crew, stevedores, quantity and quality control companies, tugs, holds/tanks inspectors, Customs brokers, ISPS offiers, ship agents, motor boats providers (amongst others described);
Various general measures are implemented related to increase hygiene conditions both in ports and ships, operational and precautional measures for crew, pilot, shore personnel; as sestrictions to board, to enter the port and to provide services to the vessels; measures in case of isolation in ports; and guidelines for quarentine ships
This and other details must be consulted with the ship agents at the appropriate time
Yours Faithfully,
PANDI LIQUIADORES SRL/BUENOS AIRES, ARGENTINA
Notice: the content of this circular is for information only. Even though it has been issued carefully, and to the best of our knowledge, it has a general purpose and we can accept no liability whatsoever for any particular action taken upon it. © Pandi Liquidadores SRL 2020. All rights reserved.